R&S®PACE 2 - Solution guide
OEM deep packet inspection software for
reliable protocol and application classification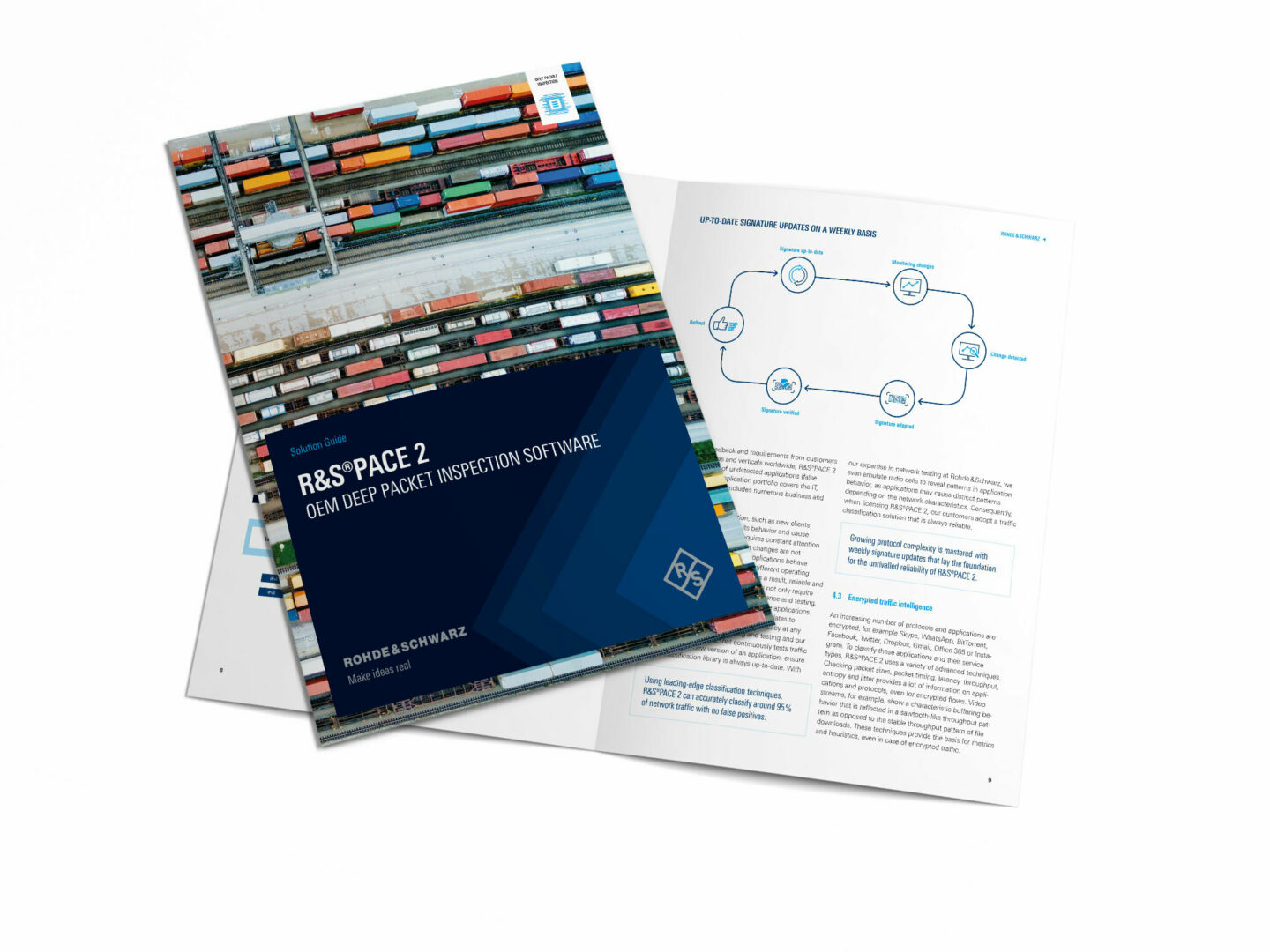 With constantly evolving network protocols and applications, only an up-to-date DPI library ensures that IP traffic is classified reliably in order to manage network traffic efficiently and ensuring the highest level of security. The advanced OEM deep packet inspection software R&S®PACE 2 from ipoque delivers comprehensive visibility of network traffic, empowering networking and cybersecurity solutions to transform raw IP data into meaningful insights.
Deep packet inspection is also a key component in 5G, as it provides real-time network visibility and application awareness from the core to the edge and across all layers and nodes within the network, supporting 5G's new and enhanced features.
Our DPI library R&S®PACE 2
Our OEM DPI engine R&S®PACE 2 takes care of weekly signature updates seamlessly and has been earning its trust with a wide range of global customers in the network management and IT security field for many years. Our dedicated laboratories led by our traffic forensics teams analyze gigabits of traffic on the network every hour and provide updates to our DPI libraries almost instantly. By using a wide variety of leading-edge classification techniques, such as machine learning (ML) or behavioral and statistical analysis, we ensure the highest classification accuracy on the market. Combining such techniques enables R&S®PACE 2 to classify applications and protocols reliably despite encryption and obfuscation.
Designed by developers with many years of experience in Layer 7 protocol and application awareness, R&S®PACE 2 can be deployed in a variety of use cases including Network Security (IDS/IPS), Next-Generation Firewalls, SIEM, Network Monitoring and Traffic Management, Policy and Charging, Application Delivery and Optimization, Analytics, and Mobile Data Offload.
By licensing the market-leading DPI engine R&S®PACE 2, vendors can concentrate on their core competencies and significantly save on development and maintenance costs.

Our R&S®PACE 2 solution guide provides a detailed understanding of R&S®PACE 2 features and capabilities, performance, use cases, integration as well as our excellent customer service and support.
Request R&S®PACE 2 pricing