OEM deep packet inspection software R&S®PACE 2
R&S®PACE 2 is ipoque's state-of-the-art deep packet inspection (DPI) engine offering advanced protocol and application classification with metadata extraction thus providing real-time application awareness and complete IP traffic visibility up to layer 7 for network equipment and software vendors. The software library uses DPI, including advanced techniques such as behavioral and statistical analysis and machine learning, to classify network protocols and applications reliably, even in encrypted traffic.

By embedding our market-leading OEM deep packet inspection software into networking and security solutions, vendors can concentrate on their core competencies and clients benefit from reduced cybersecurity risks, data-driven decision-making and increased productivity.
Empower your product by adding IP traffic classification capabilities provided by R&S®PACE 2 to your networking solution and be able to analyze network traffic and user behavior, manage bandwidth, monitor application and network performance and enforce security policies. R&S®PACE 2 is a critical enabler for a more secure, reliable, and efficient network.
Advanced DPI engine for reliable network visibility
Keep up with rapid product cycles and focus on your core technology with R&S®PACE 2
Features & benefits of R&S®PACE 2
Protocol and application classification, metadata extraction and encrypted traffic intelligence
Real-time IP traffic classification including several thousands of protocols, applications and their service types, such as video, audio, file transfer, etc.
Metadata parameters such as bandwidth usage, traffic volume, connection duration or attachment types and quality of service /quality of experience indicators such as jitter, throughput or packet loss
Encrypted traffic intelligence by combining advanced techniques and behavioral and statistical analysis as well as machine learning (ML) to classify applications and protocols despite encryption and obfuscation
We use highly automated testing frameworks and setups to detect any application change and to ensure that R&S®PACE 2 is always up-to-date.
This short video on YouTube gives a brief introduction to our DPI software R&S®PACE 2 and its functionality.

NAT plug-in: detection of devices behind routers using network address translation (NAT), including smartphones using mobile tethering
First packet classification: caching methods combined with encrypted traffic intelligence enable future-proof first packet IP traffic classification
Dynamic Upgrade: R&S®PACE 2 offers live updates without interruptions integrating weekly software releases during runtime

Extension Interface: R&S®PACE 2 customers can implement their own code, such as traffic identifiers (own classifications), during the packet processing and produce customized events
Multiprocessing: R&S®PACE 2 is designed for symmetric multiprocessing systems and supports uniform (UMA) and non-uniform memory access (NUMA)
Fastpath: If no additional processing is necessary, the Fastpath feature drops all upcoming packets of a flow after the flow has been classified
Client-Server Indication: enables targeted tracking of internal network users to significantly reduce memory requirements
Memory Management: memory usage can be optimized in an individual way

Configuration Dictionary: provides a string-based and binary-compatible way to configure R&S®PACE 2 to handle options unknown to a specific software version
Processing States: reveals the relative amount of time spent on processing during runtime
Time-to-market and cost savings: reduced development time and capex/opex
Easy and fast integration: highly flexible API for integration, platform-agnostic software, no external dependencies
Superior service and support: adaptable to individual needs with designated support engineers
Fast performance and linear scalability: throughput of 14 Gbps per core, on average
High efficiency: most efficient memory usage and easiest CPU integration on the market
Accuracy and reliability: classifies over 95 % of network traffic with a time resolution down to nanoseconds
Coverage: real-time classification of protocols and applications for all verticals and regions across diverse operating systems, application versions and service types
Metadata extraction: detailed insights into application-centric statistics for QoS/QoE, for example, KPIs on network performance for applications such as
VoIP and video streaming
Always up to date: weekly signature updates, including additions to the classification library
Dynamic upgrades: No downtimes thanks to dynamic upgrades

Future-proof: prepared for network automation and optimized to run in virtual environments (supports KVM, VMware, Hyper-V and Xen)
R&S®PACE 2 can be deployed in a variety of network analytics and security solutions. The multitude of use cases and deployments reflects the adaptability, flexibility and scalability of R&S®PACE 2 and the benefits of licensing DPI software. The following list mentions some reference use cases for deep packet inspection in telco and cybersecurity solutions.
Digitial experience monitoring (DEM)/ Application performance monitoring (APM)/ Network performance management (NPM): DPI enables insights into customer behavior and bandwidth demand to diagnose application performance issues and bottlenecks in the network
SD-WAN: only intelligent or application-aware SD-WAN solutions can ensure advanced security, optimize user experience, enable real-time business decisions, improve customer service, and increase business productivity
Virtual evolved packet core (vEPC): extensive coverage of VPNs and anonymizer signatures and detection of DNS tunneling of R&S®PACE 2 allows vEPC vendors to prevent policy bypassing and zero-rating fraud
Wireless access points (WAP): DPI contributes to the smooth running of critical business operations strengthening network security and efficiency by limiting potential threats and prioritizing key business traffic
Next-generation firewalls (NGFW): granular insights provided by R&S®PACE 2 enable next-generation firewalls to protect their users from rapidly evolving new cyber threats arising from the cloud era, IOT or the 'bring your own device' (BYOD) trend
Web application firewalls (WAF): real-time insights into network traffic help to efficiently trace and identify malicious activities to ensure that cyber attacks are stopped before they reach web servers
Security Information and Event Management (SIEM): with DPI SIEMs can typically reduce time to discovery and containment from weeks to days
Security and threat intelligence solutions: DPI helps to tackle the latest security breaches with advanced analytics in Intrusion Detection and Intrusion Prevention Systems (IDS/ IPS) or cloud-based security solutions
Service assurance and analytics: DPI helps to gain business intelligence from network and subscriber data to unlock value and monetize new services

Follow the links in the text to learn more about how each solution benefits from deep packet inspection technology by R&S®PACE 2.

Developed entirely in C to deliver the highest performance
Optimized code for high-end multicore technologies
Multiprocessing support enables almost linear scalability on multicore systems
Market-leading performance of an average throughput of 14 Gbps per core
Detailed R&S®PACE 2 performance values for different scenarios can be found in our R&S®PACE 2 solution guide and Intel performance whitepaper.

With R&S®PACE 2, we are proud to offer a top-notch service you can trust and that keeps you operative and your projects running at full pace.
Our approach anticipates issues before they occur. Whenever you need us, we offer reliable, expert-level support.

Online ticket tracking system for fast and easy issue reporting
Various support channels:
Web: Customer portal and ticket tracking system
Email: Customer support email address
Phone: Customer support hotline
Customer portal for software releases and maintenance
Emergency and hotline service

Adaptable SLAs
Integration consulting
Remote assistance & technical consulting
On-site support
Monthly report on support performance
Proactive communication and alerts
Dedicated support account manager
Individual consulting and feature requests
With ipoque's full range of services, a deep understanding of our clients' needs and the right tools, we regularly exceed our clients' expectations. Learn more about our service promise.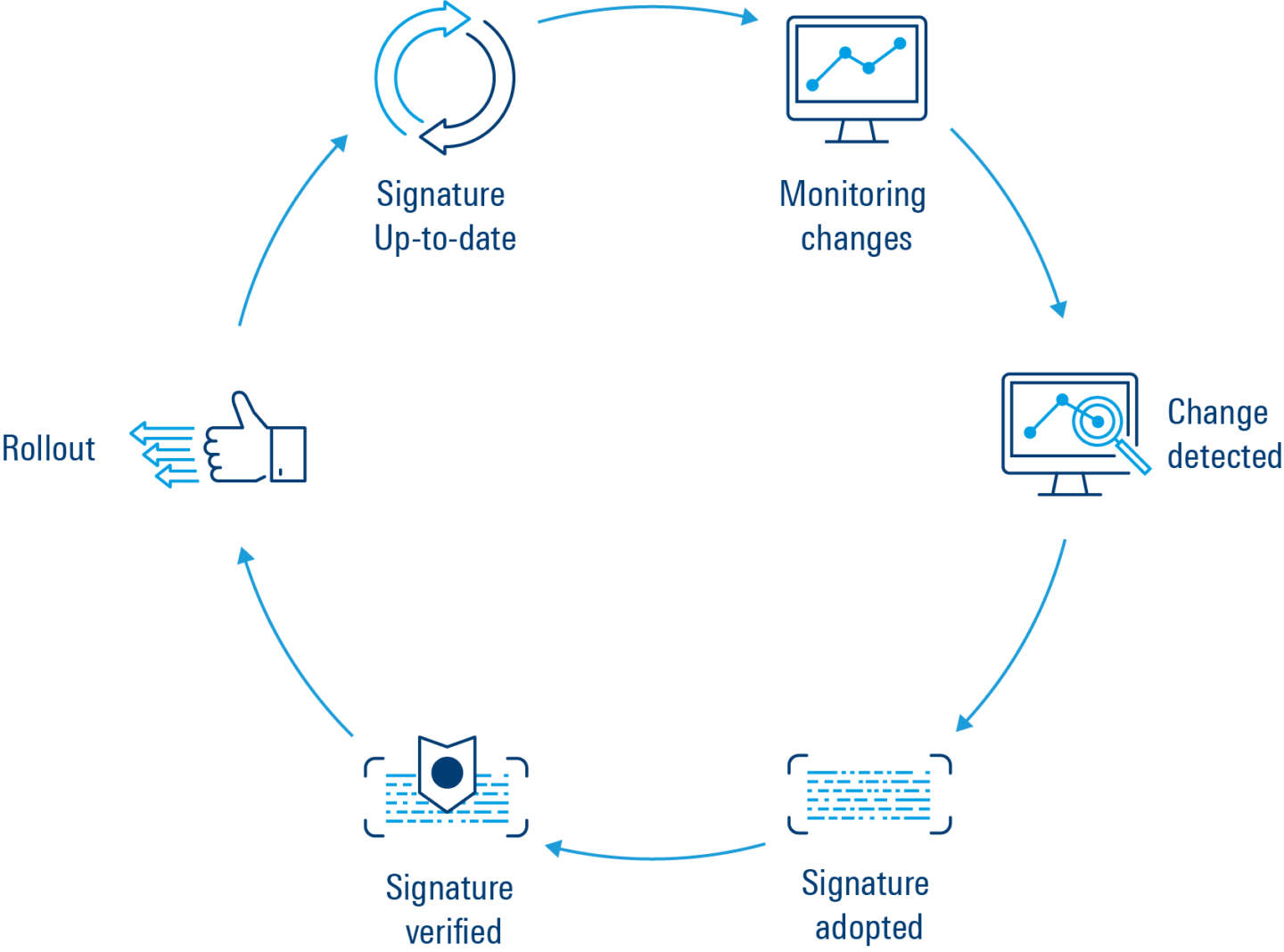 Network traffic classification expertise
How many protocols and applications can R&S®PACE 2 classify?
The ipoque DPI engine R&S®PACE 2 classifies a huge amount of protocols and applications covering different regions, areas and verticals across diverse
operating systems, application versions and service types. Thanks to weekly signature and regular protocol updates, network equipment and software vendors can rely on a classification library that is always up-to-date. Constant attention to new releases of applications and their behavior on different devices, with different operating systems and in different networks, ensures a high level of accurate application classification at any time. Weekly releases can be integrated into the library smoothly during runtime.
ipoque ensures the highest classification accuracy by using a wide variety of leading-edge classification techniques, including machine learning (ML), metadata extraction, pattern matching and behavioral and statistical analysis. By combining them, R&S®PACE 2 can classify applications and protocols reliably despite encryption and obfuscation

Our protocol expertise includes the extensive coverage of VPN, anonymizer and DNS tunneling protocols. The broad classification portfolio also includes machine-to-machine (M2M), IT, IoT and OT protocols and countless business and mobile applications and application service types across all verticals and regions.

R&S®PACE 2 integration
The integration of R&S®PACE 2 enhances any networking and cybersecurity solution without much effort.
The DPI engine is built as a software library ensuring easy and fast integration and updates. R&S®PACE 2 is platform-agnostic, supporting x86, ARM, Cavium Octeon, Power PC, etc. and runs on Unix operating systems, such as Linux, Mac, FreeBSD, etc., using a C interface. Thanks to open APIs, integration examples and superior service and support, R&S®PACE 2 can be swiftly embedded into any new or existing solution. With its flexible design, R&S®PACE 2 can be adapted to solutions from small routers up to large carrier networks.

The elaborated integration process includes a free proof-of-concept (PoC) phase that enables customers to test R&S®PACE 2 and validate its benefits within their solution. Integration examples and an internal tracking component allow testing the integration of R&S®PACE 2 without much effort. In simple setups, R&S®PACE 2 can be integrated remotely in a couple of hours, with only a few hundred lines of code.

Why choose R&S®PACE 2?
Since 2005, ipoque has been shaping the market with advanced deep packet inspection software. Our DPI engine R&S®PACE 2 and its advanced features incorporate highly sophisticated technologies that support network equipment and software vendors in achieving network visibility and building application-aware network solutions.
DPI-based packet classification is the core of the library and it is based on a multitude of signatures that are updated dynamically on a weekly basis. Advanced DPI technology by ipoque provides granular IP traffic classification including protocols, applications and their service types such as video, audio, file transfer. By embedding the OEM software R&S®PACE 2, solution vendors add real-time application visibility to their products and keep up with the dynamic changes in protocols and applications. Integrating R&S®PACE 2 as a software component helps to save resources for your core business.
Request R&S®PACE 2 pricing