Bring your solution to the next level.
Speed and efficiency matter

DPI technology has been an essential component of IT networks for over two decades. The volume of internet traffic, data transfer and – more importantly – the encrypted transmission of data has exponentially increased over the years. With emerging technologies, 5G, IoT/ IIoT and widespread virtualization on network and application level, DPI becomes even more important for network operation.
To meet future service demands, carriers and enterprises are not only enhancing their network infrastructure for greater speed and quality of service (QoS), but also looking for ways to manage their data flows more intelligently. The key to maintaining integrity, ensuring security and optimizing the efficiency of a multi-Gbps network is a high-performant and efficient DPI that delivers full visibility into IP-based network traffic.
ipoque ETA (Encrypted traffic analytics) delivers valuable insight into encrypted traffic while respecting data privacy. The extracted metadata allows for optimized traffic steering and classification in carrier networks.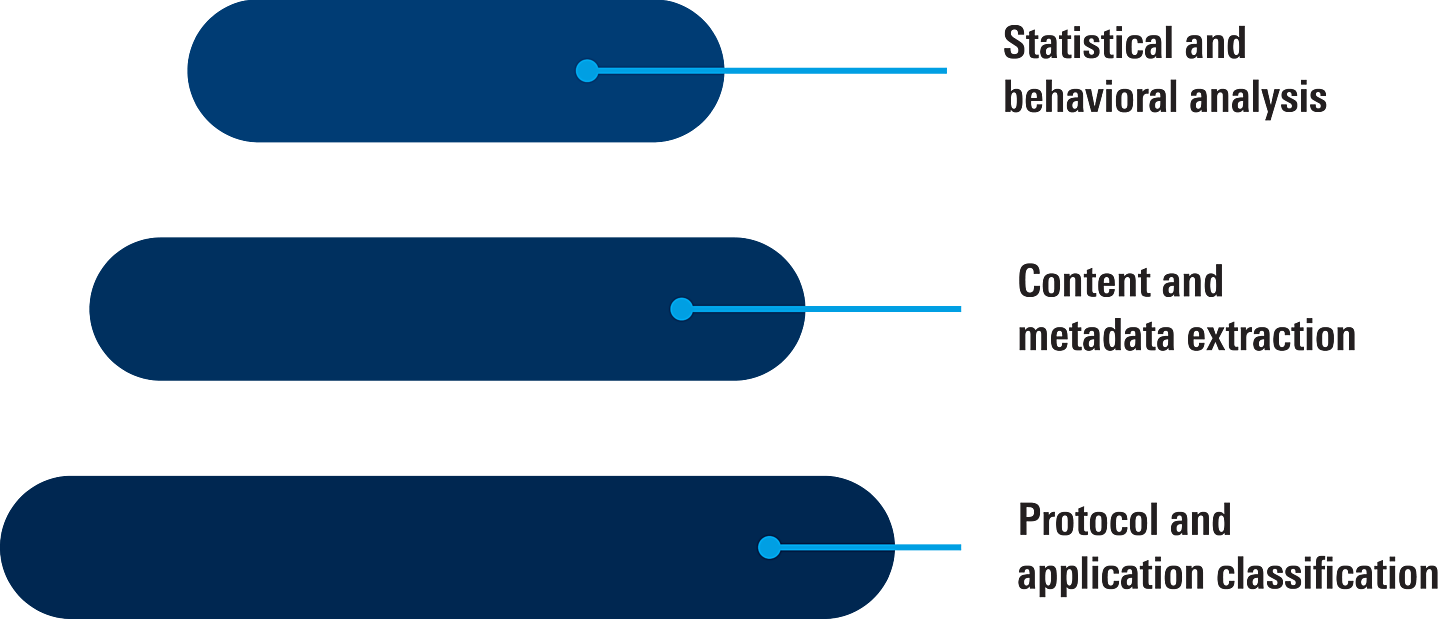 Only advanced DPI technology meets today's network challenges
Only an advanced DPI technology with behavioral and statistical analysis tools can handle today's network challenges. In the field of network analytics, an advanced DPI helps to develop products to unlock value and increase revenue by better understanding subscriber behavior and application usage as well as data flows inside your network. Traffic management use cases powered by advanced DPI technology benefit from a holistic view of networks to shape them accordingly. Regarding network security, advanced DPI allows vendors to stay ahead of threats with detection techniques as sophisticated as the cyberattacks themselves. In all applications and use cases discussed, advanced DPI is a powerful tool to build a solid data foundation for machine learning (ML) and artificial intelligence (AI).
Licensing advanced DPI is a prerequisite to keep up with the dynamic changes in protocols and applications and meet high customer expectations with state-of-the-art technology. Of course, we cannot foresee future development of network trends. Even so, as application visibility will remain a prerequisite of intelligent network decisions, a future without the use of a high-performant, easy-to-use DPI engine like R&S®PACE 2 appears quite unlikely.