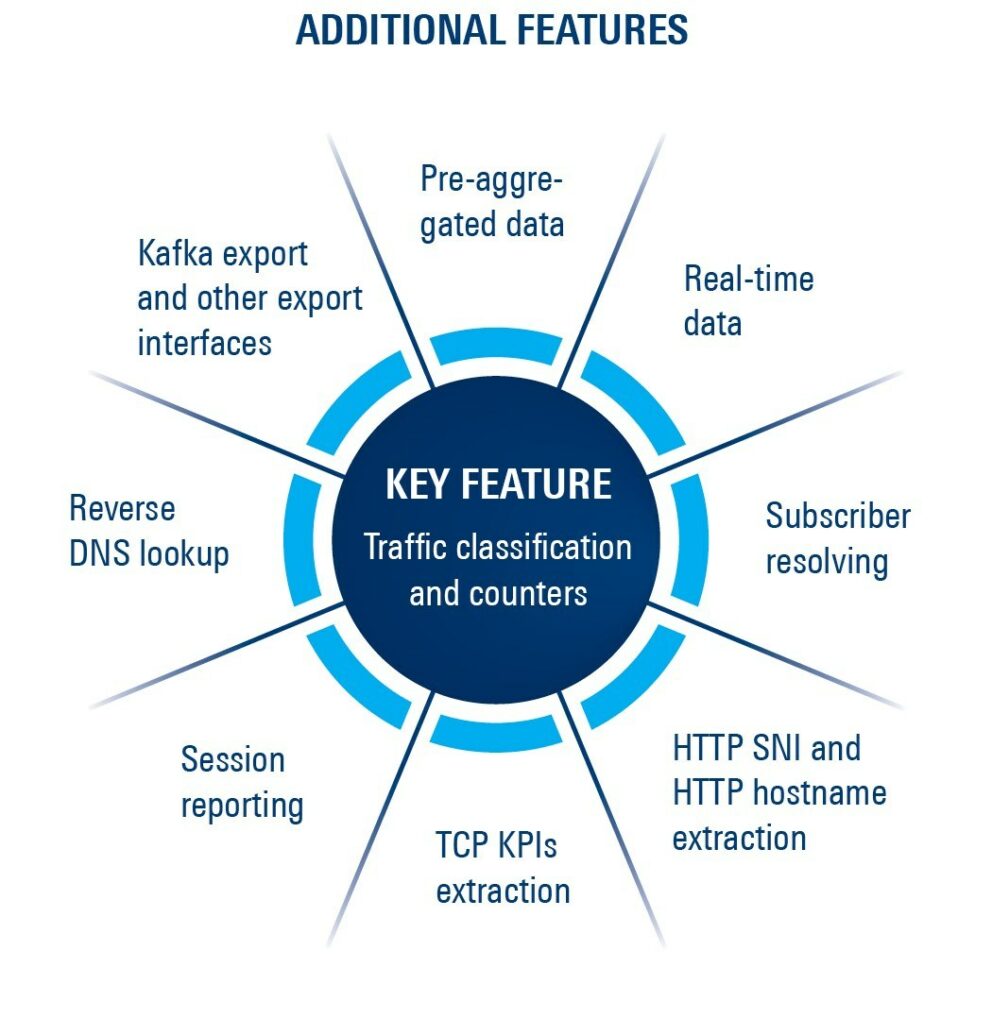 Delivering the right data insights
R&S®Net Sensor OEM is a powerful software IP probe that provides data for advanced network analytics. Based on our high-performance deep packet inspection software R&S®PACE 2, its high flexibility and scalability enable innovative solutions for the networks of the future. R&S®Net Sensor OEM has a strong core that provides DPI and fast packet processing to offer real-time reports on the entire network and its subscribers. Additional modules can be added to the solution to fulfill individual demands. In this way, and thanks to its open APIs, R&S®Net Sensor OEM can be tailored to fit any use case.
A solution as unique as your challenges
Given that the requirements for IP probes are as varied as the use cases covered, Rohde & Schwarz offers a lightweight and scalable OEM software IP probe that can be customized to meet any demands.
R&S®Net Sensor OEM is designed to adapt flexibly to different networks and individual reporting requirements and granularity. Processing rates are scalable from small setups to systems of several Tbps. Additionally, R&S®Net Sensor OEM can be deployed on COTS hardware, as well as on virtualized and cloud environments. With mobile and fixed-line traffic analytics, as well as correlation of subscriber traffic, R&S®Net Sensor OEM covers the whole array of network analytics use cases. An equally flexible pricing model ensures predictable costs and a safe investment.
Features & benefits of R&S®Net Sensor OEM
Weekly protocol and signature updates for the integrated DPI engine
Fine-grained application control, extraction of metadata and classification of IP traffic
Highest classification accuracy on the market with zero false positives
Subscriber resolving and correlation for mobile and fixed line networks (GTP v1,v2, RADIUS)
Data export for big data systems with multiple modern APIs (HDFS, Kafka, etc.)
Cost efficient installation suitable for COTS, virtualized or cloud solutions
Single reporting interface to external systems, also compatible with multiple R&S®Net Sensor OEM probes
Enable future-proof solutions with up to multiple Tbps
Ensure predictable costs and a safe investment
Reduce integration and adaptation efforts as well as development costs
Focus on core competencies and become more efficient and profitable
Speed up time-to-market by optimizing the development schedule
Be flexible for different customer and project requirements
Reduce risks and reaction time for important projects
Profit from professional support and continuous product development
As R&S®Net Sensor OEM can be tailored to any demand, it addresses the needs of several user groups. Able to provide insight into mobile and fixed lines and to correlate subscriber traffic, R&S®Net Sensor OEM covers the whole array of network analytics use cases, such as application performance monitoring or customer care analytics, among others. Due to the growing complexity and capacity of networks, IP probing needs to be fast and cover a broad spectrum of traffic information. For cybersecurity solutions running on enterprise networks, like SIEM and SOC, the IP probe is a vital system component. It incorporates open APIs to third-party solutions in order to adapt to the special requirements of each network and provide a tailored set of cybersecurity measures.
System integrators also benefit from the broad use case spectrum of R&S®Net Sensor OEM. It allows them to build specific systems that adapt to end-customer requirements while ensuring low integration and adaptation efforts.
R&S®Net Sensor OEM can be deployed in physical, virtual or cloud infrastructures and is optimized to work in mobile and fixed lines, as well as in enterprise networks
Via TAP, switch port mirroring or packet forwarding from a virtual switch
Runs on COTS hardware
Cloud deployment for dynamic virtualization or edge computing
Different support channels guarantee high product availability. We offer complete packages and adaptable service level agreements to satisfy customer expectations throughout the entire sales and product lifecycle. The following support channels are available:
Online ticket tracking service
24/7 hotline service by support engineers
On-site support by consulting engineers